Our Projects
Some of our Recent Works
What we can do for you
Our Services
We can create Photorealistic Virtual Environments with Unreal Engine that interact with the actors in real time, allowing filmmakers to make on-set decisions and changes

We allow the production to move from one location to another without leaving the stage

We allow final shots to be captured In-camera, without the need to replace the backgrounds in post-production

We can do In-camera Visual Effects

We have Set Extension Tools driven by State Of The Art servers

We have Image-based DMX controlled Intelligent Lights

We can Save your money on crew travel & company moves

We can Save your money on Post-Production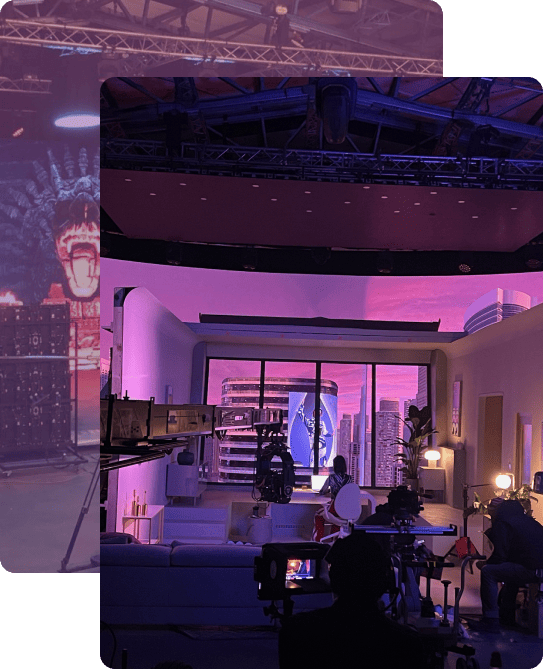 VIrtual Production Studio
About
Established in 2020, TEN DOTS is the first Virtual Production Studio build on the Balkans. Located in Sofia, Bulgaria, TEN DOTS can offer a turnkey solution for cost-efficient, high-quality Film and Video Productions.

TEN DOTS Virtual Production Studio enables all kinds of filming to be produced under completely new creative parameters. Now the Digital backgrounds are pre-produced as 3D worlds for the shoot and projected onto a LED screen around any physical set. The environment on the LED screen is linked to the camera thru a Camera Tracking System and can move along with the camera's movement, thus creating the illusion of a real environment from every possible angle.

Thanks to its dimensions, the TEN DOTS Virtual Production Studio LED volume leaves nothing to be desired in terms of virtual film production. With the 34 m. wide 6 m high and 180° curved LED wall consisting of a total of 816 state of the art INFILED DB2,6 LED panels panels TEN DOTS is the biggest and most innovative virtual production stage in the region. The Virtual enviroments Powered by the Unreal Engine, are interactively played on the LED wall in real time and CG worlds immerse talent and production crew, capturing dynamic visual effects in-camera.

It is now possible to shoot real camera shots without the need to move to different locations. The shots can be made directly on the LED Screen Set. False colour reflections and refractions of green boxes are now a thing of the past. The In-camera Virtual Production on a LED Screen Set gives full control of the daylight changes seasons and weather conditions and saves enormous amount of Post-production time and Logistic expenses.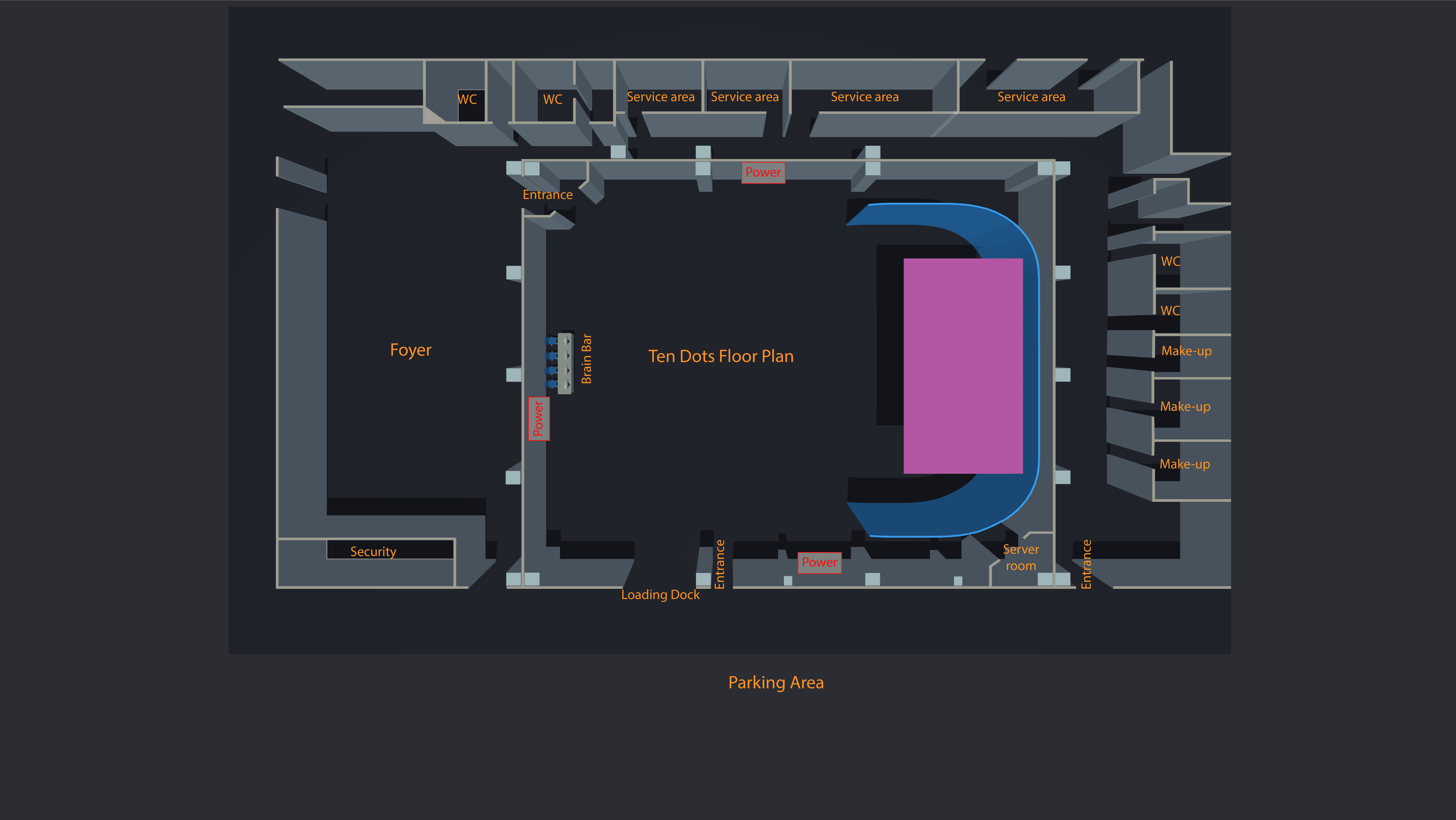 Studio space – 670 sq. m., 9 m. heigh
       Working area inside the LED Volume – 18 x 9 m.
       Size – 30 x 6 m. 
       Curve – 180°, 
       Resolution – 2,6 mm. p.p., 11520 x 2304 p. 
       10bit HDR 25-120Hz, A10s Pro receiving cards
       Scan rate – 1/16
       Refresh rate – 7680Hz
       Brightness – 1200 NITS /calibrated/
       Size – 12 x 6 m.
       Resolution – 5,9 mm. p.p., 2016 x 1008 pix. 
       10bit HDR 25-120Hz, A10s Pro receiving cards
       Brightness – 5000 NITS /calibrated/
         Size – 4 x 3 m. 
       Resolution – 2,6 mm. p.p., 1536 x 1152 p.
       AMD Threadripper Pro 3975WX Processor
       128GB DDR4 3200MHz ECC
       NVIDIA RTX A6000
       NVIDIA Quadro Sync II
       10Gb Ethernet network
       36TB Storage Server connected at 10Gb
        NOVASTAR MX40 Pro Screen controllers
       COEX VMP Control Software
       Rosendahl NanoSync HD Master Clock Generator
       Mo-Sys StarTracker